I probably should have been tagging my blog posts from the beginning. Honestly, I did not really know where the button was on the Weebly site that I use and I never really bothered because I did not see it's importance. I mean I figured, who is going to take the time to look through my blog through tags? But this year, I started my first semester of the Doctorate in Educational Technology at Central Michigan University. I have been working through two courses this semester. Which is one of the reasons the podcast has taken a brief hiatus. The last 7 posts I have made on my blog are about Motivation in Blended and Online Professional Development. This is from the research I did in one of those courses. But it is my Educational Research course that got me to start tagging my blogs.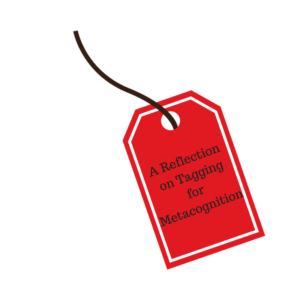 In this course, one of our first tasks was to create a blog for our program related work (which I have now merged with my personal blog under DET Materials). We used it to post annotated bibliographies of research articles we are interested in following up with. One of the requirements for this blog was that we had to tag each post with any tags that would help us to refer back to topics we often found good articles to reconsider at a later date. My professor shared a research article with us, written by Christian Glahn, Marcus Specht, and Rob Koper (2010), describing the metacognitive benefits of tagging for personalized and self-directed learning.
At first, I figured it was just a good way to keep my articles for future research more easily accessible, but as I got to the actual tagging I realized that I had to really think about how I could apply this now and in the future to really tag it appropriately. Not only that, I also had to go through prior tags and determine if any of the articles I had archived earlier in the year related to the one I was reading at the time. This format has already helped me as I have been working on this program and with other projects. I can click on a tag and have all the bibliographies of the articles that I have read which relate to the topic ready to go.
I have been an advocate for student blogs. I used them when I taught English, I have given presentations about using blogs with students, and I have been working with teachers to use them in their classrooms. As I start digging deeper into personalized learning for both professional learning and student learning, I am seeing more and more the need for digital blogs that allow for curations and reflections of learning and how tagging can help to promote deeper understandings.
References
Glahn, Christian, Specht, Marcus, & Koper, Rob. (2010). Reflection Support Using Multi-encoded Tag-clouds. 2010.